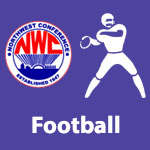 Spencerville head coach Chris Sommers was selected as the NWC Coach of the Year for the Northwest Conference in voting by coaches at a meeting in Delphos on Monday.  Spencerville tied for the league championship with Crestview and Columbus Grove as all finished the season at 6-1 in league play.
Crestview senior quarterback Drew Kline repeated as the NWC Offensive Player of the Year.   Eli Yahl, a junior linebacker from Spencerville, was selected as the NWC Defensive Player of the Year.
Spencerville, Crestview and Columbus Grove have all qualified for the state football playoffs.  On Friday, Nov. 2, Columbus Grove (7-3) will host Carey (7-3) and Spencerville (8-2) will travel to Marion Local (9-1).  On Saturday, Nov. 3, Crestview (9-1) will host Cincinnati Miami Valley Christian Academy (7-2).  All games are scheduled to start at 7:00 pm.
1st Team Offense
Offensive Line: Eli Yahl 11 Spencerville
Offensive Line: Cody Johnson 12 Columbus Grove
Offensive Line: Micah Snyder 12 Crestview
Offensive Line: Ethan Matty 12 Paulding
Offensive Line: Robbie Gonzalez 12 Crestview
Receiver: Wade Sheets 12 Crestview
Receiver: Cole Fletcher 11 Allen East
Receiver: Hunter Kesler 12 Paulding
Running Back: Cannan Johnson 12 Spencerville
Running Back: Garrett Nemire 12 Columbus Grove
Running Back: Joel Lotz 11 Spencerville
Quarterback: Drew Kline 12 Crestview
Specialist: Wade Sheets 12 Crestview
1st Team Defense
Defensive Line: Tom Catlin 12 Spencerville
Defensive Line: Cody Johnson 12 Columbus Grove
Defensive Line: Robbie Gonzalez 12 Crestview
Defensive Line: Micah Snyder 12 Crestview
Linebacker: Eli Yahl 11 Spencerville
Linebacker: Brady Hauenstein 12 Columbus Grove
Linebacker: Brody Brecht 10 Crestview
Linebacker: Blake Hershberger 10 Allen East
Defensive Back: Wade Sheets 12 Crestview
Defensive Back: Caleb Barrientes 12 Columbus Grove
Defensive Back: Kale Lee 12 Spencerville
Defensive Back: Hunter Paxson 11 Allen East
2nd Team Offense
Offensive Line: Matt Macklin 12 Spencerville
Offensive Line: Brennan Davies 11 Allen East
Offensive Line: Ethan Halker 10 Columbus Grove
Offensive Line: Trenton Duran 12 Allen East
Offensive Line: Ethan Hall 11 Ada
Receiver: Caleb Barrientes 12 Columbus Grove
Receiver: Trevor Taylor 12 Columbus Grove
Receiver: Bradden Crumrine 10 Allen East
Running Back: Kale Lee 12 Spencerville
Running Back: Brody Brecht 10 Crestview
Running Back: DeAndre Nassar 12 Bluffton
Quarterback: Blake Reynolds 10 Columbus Grove
Specialist: Rece Verhoff 9 Columbus Grove
2nd Team Defense
Defensive Line: Connor Holmes 12 Spencerville
Defensive Line: Jacob Eblin 12 Paulding
Defensive Line: Jonah Meyer 12 Allen East
Defensive Line: Mason Ault 12 Bluffton
Linebacker: Riley Schumacher 12 Columbus Grove
Linebacker: Isaiah LaTurner 11 Crestview
Linebacker: Cole Mabis 11 Paulding
Linebacker: Dustin Rowe 12 Allen East
Defensive Back: Drew Kline 12 Crestview
Defensive Back: Drew Armstead 12 Spencerville
Defensive Back: Cannan Johnson 12 Spencerville
Defensive Back: Drew Lumpkins 12 Paulding
Offense Honorable Mention
Offensive Line: Jared Basinger 11 Columbus Grove
Offensive Line: Jackson Goecke 11 Spencerville
Offensive Line: Jacob Eblin 12 Paulding
Offensive Line: Landen Luginbuhl 11 Bluffton
Offensive Line: Dylan Sargent 11 Columbus Grove
Offensive Line: Kole Small 12 Crestview
Offensive Line: Brady Welker 12 Delphos Jefferson
Offensive Line: Mickey Ault 11 Bluffton
Offensive Line: Seth Schwartz 12 Spencerville
Offensive Line: Aaron Tabler 9 Bluffton
Running Back:  Jacob Deisler 11 Paulding
Running Back:  Brady Hauenstein 12 Columbus Grove
Running Back:  Logan Rhodes 12 Bluffton
Receiver:  Bryce Belcher 11 Allen East
Receiver:  Zac Swaney 10 Ada
Receiver:  Gabe Clement 10 Columbus Grove
Receiver:  Jacob Treglia 12 Allen East
Receiver:  Brad Clum 12 Ada
Quarterback:  Tyler Clum 10 Allen East
Quarterback:  Nate Schaadt 9 Bluffton
Specialist:  Bradden Crumrine 10 Allen East
Specialist:  Kyle Koontz 11 Bluffton
Defense Honorable Mention
Defensive Line:  Reese Hodge-Miller 11 Spencerville
Defensive Line:  Ezra Jones 10 Columbus Grove
Defensive Line:  Noah Mattson 12 Ada
Defensive Line:  Ethan Matty 12 Paulding
Defensive Line:  Brady Welker 12 Delphos Jefferson
Defensive Line:  Mason Myers 11 Spencerville
Defensive Line:  Jeff Meyer 10 Columbus Grove
Defensive Line:  Jason Althaus 12 Bluffton
Linebacker:  Jackson Goecke 11 Spencerville
Linebacker:  Ethan Hall 12 Ada
Linebacker:  Tucker Neff 11 Bluffton
Linebacker:  Holden Purdy 11 Ada
Linebacker:  Dylan Pitts 12 Columbus Grove
Linebacker:  Conner Anspach 12 Delphos Jefferson
Linebacker:  Riley Coil 11 Paulding
Defensive Back: Trevor Taylor 12 Columbus Grove
Defensive Back: Phil Coulson 11 Ada
Defensive Back: Daniel Mattson 10 Ada
Defensive Back: Kole McKee 12 Delphos Jefferson
Defensive Back: Hunter Kesler 12 Paulding
Defensive Back: Baylor Garmatter 11 Bluffton
Defensive Back: Dylan Baughman 11 Spencerville
Defensive Back: Tyson Shutler 10 Bluffton